Sonoma County, the birthplace of California winemaking, is one of the most popular places to get married in the Bay Area for a reason. There are the amazing wineries, of course, but that's just the beginning of the spectacular venues Sonoma has to offer. There are also historic homes, acclaimed restaurants with expansive patios, and scenic ranches, just to name a few. The wine, the food, and the views all attract couples from the Bay Area and from around the world. Here are our favorite Sonoma wedding venues!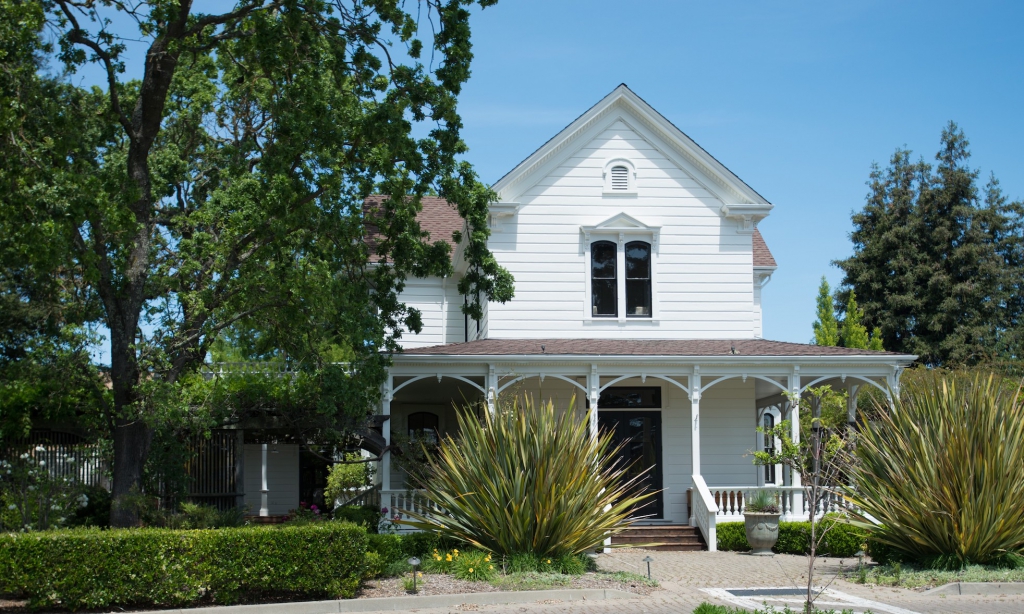 Photo via www.thegeneralsdaughter.com
Located in downtown Sonoma, the General's Daughter has deep connections to California history. The beautiful Victorian home was built in 1864 for the daughter of Mexican general Mariano Vallejo upon her marriage to the son of Agoston Haraszthy, the founder of California's first winery. In the century-and-a-half since, the house and its grounds have become one of the premier spots in Sonoma to host a wedding ceremony and reception with its amazing indoor and outdoor venues. The vine-covered garden patio is great for an outdoor reception, while the charming Great Room is an ideal location for an indoor event.
Capacity: 120
Typical cost: $1,000–$5,500
Bonus: The acclaimed Ramekins culinary school is right next door, and they will provide your reception with their signature farm-to-table catering.
Follow them on Facebook and Instagram.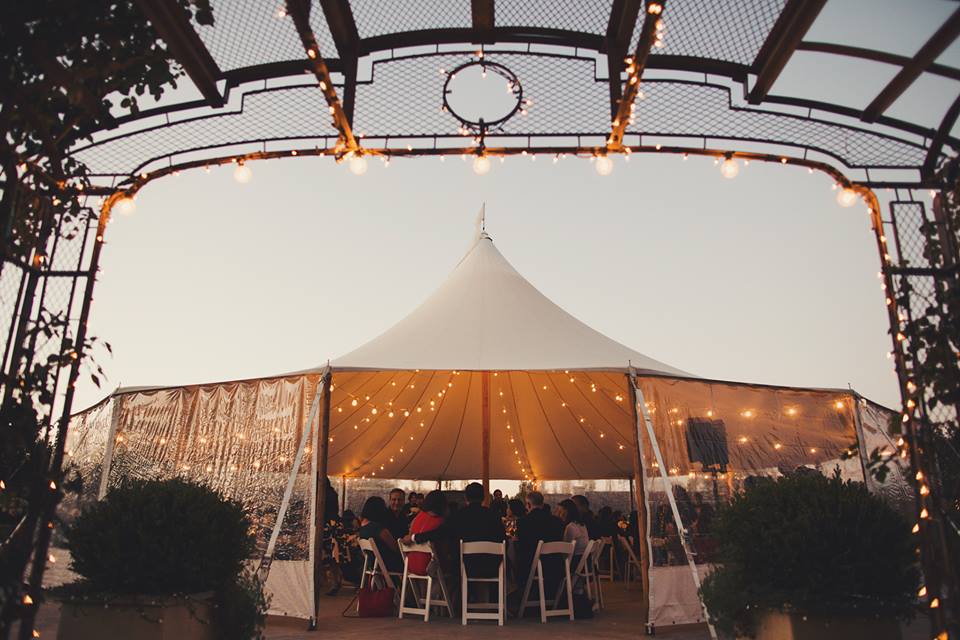 Photo via www.cornerstonesonoma.com
Cornerstone Sonoma features breathtaking gardens designed by world-renowned landscape architects. The Vineyard Lawn which borders on the pinot noir vineyards and features seasonally-blooming water lilies is perfect for large events. The Garden Barn provides amazing views of the gardens and has a fire pit. The Wedding Garden is a secluded area with a half-acre or lawn and includes a 50-foot tent.
Capacity: The three venues have max capacities ranging from 120 (seated)–450 (standing)
Typical cost: $3,500–$11,500
Bonus: There is a two-bedroom cottage available to rent on-site, so you can prolong your stay at these beautiful gardens.
Follow them on Facebook, Twitter, and Instagram.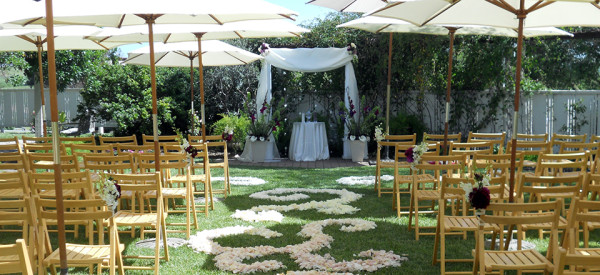 Photo via www.sonomacounty.com/weddings
Nestled in the foothills of Sonoma Mountain, this wine country estate offers the quintessential Sonoma wedding. With its picturesque gardens and courtyards, great indoor locations, and a charming barn, you'll get the full wine country wedding experience while enjoying a relaxed pace and a private setting.
Capacity: 100-200 depending on the venue
Typical Cost: $1,900–$7,200
Bonus: Flying Cloud is also an equestrian center, and you'll likely be able to see horses training throughout the day.
Follow them on Facebook and Instagram.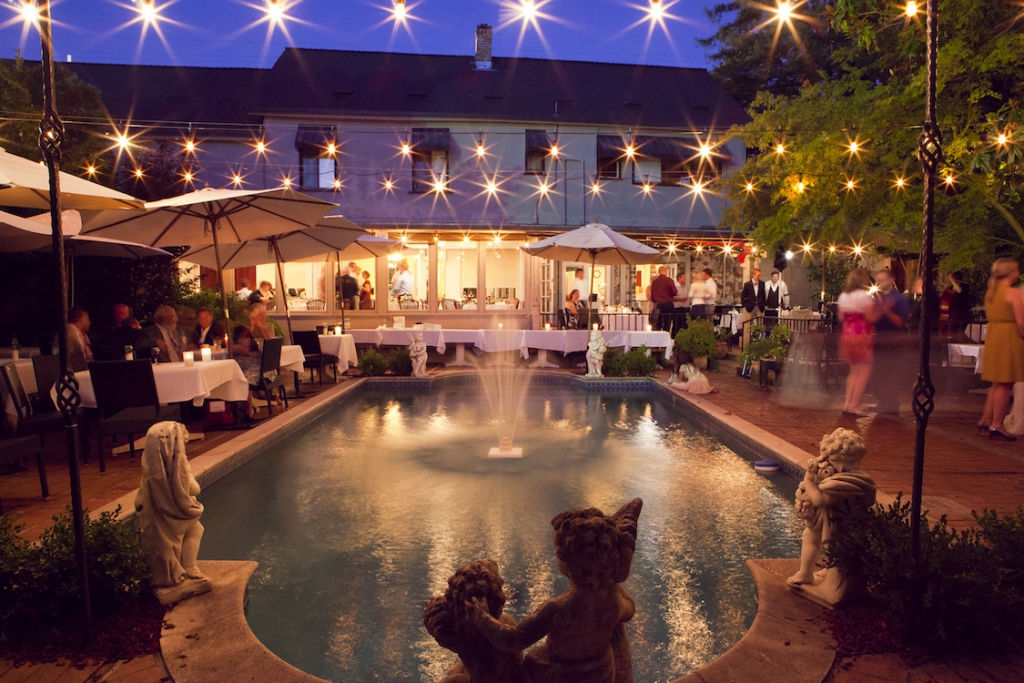 Photo via www.depotsonoma.com
Depot Hotel Restaurant and Garden is located in a beautifully restored 1870 train depot. The restaurant is perfect for receptions. The outdoor seating area by the pool, provides a romantic for an outdoor dinner, while the indoor areas have rustic European feel. The garden likewise provides a wonderful location for your ceremony. Of course a big draw for the Depot Hotel is its world-class cuisine. Their tiramisu is rightfully famous! Couples also sing the praises of the wedding coordinator and her staff.
Capacity: 100-150
Typical cost: $0–$3,000 site fee
Bonus: Parking won't be a problem—wedding packages include use of a lot with space for 500 vehicles.
Follow them on Facebook.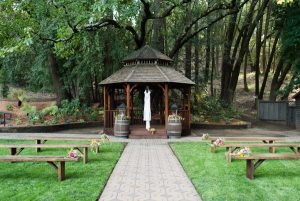 Photo via www.facebook.com/villachanticleerevents/
For a rustic wedding venue with plenty of space for your guests, check out Villa Chanticleer. This Healdsburg gem is surrounded by a peaceful oak forest and includes gardens, a gazebo, and plenty of space for great fun and dancing. And you can rest assured that the friendly staff will be there to help your guests with all of their needs on the big day.
Capacity: 250
Typical cost: $1,700–$7,500
Bonus: For animal lovers, the adjacent forest is home to lots of friendly deer!
Follow them on Facebook and Instagram.
More Bay Area wedding venues:
6 Rustic Wedding Venues in the Bay Area
7 Amazing Outdoor Wedding Venues in the Bay Area
5 Surprisingly Affordable San Francisco Wedding Venues